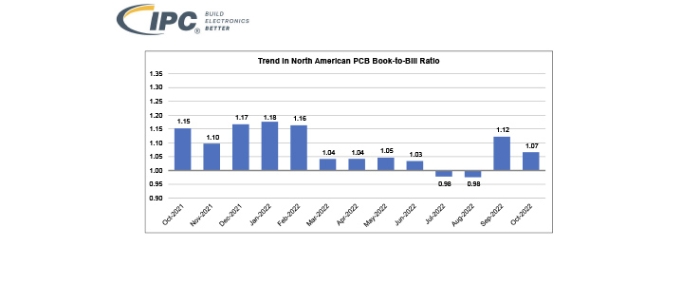 PCB |
PCB industry sales in North America increased 9.0% in October
Total PCB shipments from North America in October 2022 increased 9.0% compared to the same month last year. Compared to the previous month, October shipments fell 13.3%.
PCB stockpiles year to date in October were down 4.5% compared to last year. Bookings for October fell 22.5% compared to the same month last year. The book to bill ratio stands at 1.07.
"Both the orders and shipments data in October were relatively weak, but this data comes on the heels of a strong September that has left the book-to-bill in positive territory," Shawn DuBravac, chief economist at IPC, says in a press release. "Strong bookings in September suggest shipments should remain strong in the coming month."